Building the LT1 H-Body
By
Dave English
Purpose
I wanted to document as much as possible about putting a Gen II LT1 Small Block engine into an H-body car. These engines are becoming more popular, plentiful, and affordable for street rodders and racers, and I believe they provide an excellent combination of performance, economy, low emissions, and driveability. Although Tim McCabe pioneered this area by putting a modern EFI Tuned Port engine into his green Vega, so far, only a few HBOA members have attempted an LT1 conversion. Be advised these tips are what worked for me— "your mileage may vary", as they say. Early Vega and Monza body owners should take this into account when planning their engine swaps, but most of what worked in my '76 should work for your cars due to the common subframe and pan.
I should also add that I didn't have nearly the mechanical know-how, equipment, or fabricating skill that many of you have when I started this project. When I tell you what something costs, please realize I'm not trying to impress anyone. Quite the contrary—I wish I could have done more work myself, but I lacked the time (away from home over 16 days a month flying for UPS and Air Force Reserve), skill, and tools to do a proper job. I also wish someone could have told me what this project was going to cost before I started the job. I have picked your collective brains, read, and done research on what I want done on my car. I turn some wrenches myself, but I have had to farm out most of the heavy work to a couple of racing shops in my hometown. The more you can do yourself, the better. Also, I will not go into much detail on some of the conversion issues already well-documented elsewhere, like using parts from a 7.5" S-10 rear end to build a rear for my car. I will tell you where to find this information and provide an Internet link whenever possible.
Take this for what it is—what I went through to build a modern Pro Touring Vega with an EFI engine setup and make it run.
Background and History
My car is a white Kammback that rolled off the assembly line in February 1976 according to the build sheet. My late father-in-law purchased it new for my mother-in-law as a daily driver. She eventually passed it to her two high-school daughters. My wife learned to drive in this car, and it was her "drive to work" car when we met. (Her other car was a '90 TPI 'Vette.) Maybe that's what attracted me to her—the Vega, not the 'Vette, since I had a nearly identical blue one I drove in college and Air Force pilot training from 1976-1981. We kept the car after we got married until her sister wanted it as a daily driver while attending graduate school. When she completed her studies, I wanted the car back as an "airport car" in Louisville, KY; where I was based as a commuting UPS pilot. We got the car back with a few more body dings than when we gave it to her sister, but still in excellent mechanical shape and virtually rust-free. The car was driven very rarely in Louisville, and as my seniority with the airline increased, I drove it less and less. The winter and humid climate started taking their toll, and I became concerned about rust. When I went to Boeing 727 training in 1998, I had to decide whether to get another airporter or save "Willie, the White Wonder Wagon" as we called the Vega. My wife and I had an attachment to the car, so we decided to invest in a cheap paint and bodywork job from Maaco to remove the dents and hopefully slow down the corrosion. Once I finished training, I didn't see the car again for almost a year. Since I didn't need an airport car in Louisville often enough to leave the car up there to deteriorate, I decided to bring the car back to the more favorable climate of Abilene, Texas and restore it. I had no idea where to begin looking for parts until I got onto some of the H-body websites. I found Butch Davis on George Roth's Pacific NW Vega website, and spoke to him on the phone about interior parts one evening while sitting standby reserve at DFW airport. A couple hours later, my crew and I were called out to fly to Portland, OR. The next day I rented a pickup truck and drove from Portland to Bonney Lake, WA to pick up my first of many loads of parts from Butch and flew them back in the lavatory of the 727 to Dallas that night. Butch got me hooked on the idea of putting a V-8 into my car, which I had wanted to do since college. Butch has been invaluable both as a source of parts and knowledge. He literally has a nose for Vegas and can find you almost anything from small parts to a whole car. He is fair and honest and will work with you if you love these cars as much as most of us. He has become a good friend over the past year and I look forward to my next parts run to Bonney Lake just to drive around looking at Vegas. If you need anything, call him at (360) 897-6736, or e-mail him at vegabutch@hotmail.com .
Originally my project was going to be in two phases—first, restore the car and convert it to a Vega GT clone; then do the engine swap the following summer. It didn't turn out that way. I had been planning to use either a HO-350 ZZ-4 or a built-up Goodwrench 350 crate motor when I found a guy selling a low-mileage '96 LT1 from a wrecked Z-28 for $1800.00. I decided to buy it and put it aside until I was ready for phase two. While debating transmission options, I found a recently rebuilt 700R4 from a wrecked '86 Suburban I was able to pick up for $350.00. This is a proven combination for numerous LT1 conversions, and some of the HBOA folks have already swapped the 700 slushbox, notably Denis St. Pierre. I got Monza V-8 engine and tranny mounts from Butch Davis. So I had all the big pieces to start, but wasn't planning on pulling the 4-banger until at least summer, 2001. I had already upgraded to a front suspension from a '78 Sunbird wagon with deep-pocket lower A-arms, spindles and vented disks, V-6 front springs, a Flaming River quick-ratio aluminum steering box, new front shocks, new Moog CC-617 variable rate rear springs, front and rear anti-sway bars with poly bushings, and 13 x 6" GT rims. My interior contained a GT dash with a Cosworth tach and speedo provided by Tom "the Astre" Lippert, a mix of aftermarket mechanical and stock electrical gauges, fully functioning idiot lights, an AM/FM 4 speaker Cassette deck from the same '86 Suburban the tranny came from that looks like factory stock, restored black plastic interior panels, GT steering wheel, black vinyl "pin-hole" pattern seats from a '73 Vega (provided by Butch), new carpet, a Monza full-console (possibly a Vega option in '77?), and new door seals from Soff-Seal. I replaced the original doors and hood with a rust-free set I pulled at the local wrecking yard and added new window belt rubber from J.C. Whitney. The exterior got dual sport mirrors and GT rocker mouldings. I also rust treated every vulnerable area with POR-15 rust preventative paint. Truly a bitchin' ride, except under the hood.
I finished the restoration and GT conversion on a Sunday in October 2000; then decided to drive the car on a four-hour run to Oklahoma for an Air Force Reserve inspection I was participating in at Tinker AFB. The Friday morning I was supposed to drive home, I was blind-sided while trying to make a left turn into a parking lot by a guy who came around a line of cars yielding to me. I was very bummed about the whole thing. When the car was wrecked, it only had 67,000 original miles. I towed the car home on a flatbed, and once again had to decide whether to keep it or let the insurance total it for salvage. After much negotiation on what the car was worth as a stock restoration, I was able to get enough to keep the car with the original title intact (no salvage title!), and have the front sub-frame straightened, get good used body panels, and some body work. I realized the best time to do the engine swap was after the frame was straightened but before the body panels went back on. Fortunately, I had the engine, trans, and mounts ready to go. Like most hot-rodders, all I lacked was money, so I decided to go into debt and borrow enough working capital to start the job.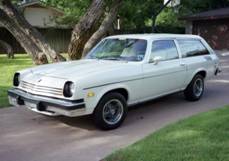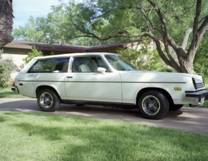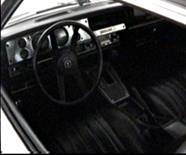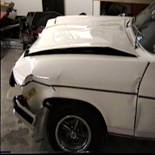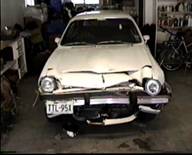 Converted and restored Vega GT Wagon: Before and after
Conversion
LT1 Gen II Small Block Chevy
The LT1 was introduced in the '92 Corvette and subsequently used in the '93-'97 Camaro and Firebird. It was designed to have a very low profile under the hood compared to the earlier Tuned Port Chevy small block. It features aluminum heads and EFI manifold, a roller cam, one-piece rear main seal, and a cast-iron block. Unusual features are the camshaft-driven water pump with no mechanical fan pulley; reverse flow cooling, and Opti-Spark electronic distributor mounted behind the water pump. Reverse flow cooling means water from the radiator flows to the cylinder head passages first, then to the block. This allows the LT1 to use a relatively high compression ratio of 10.5:1 on pump gas without experiencing detonation problems. Two excellent articles describing the engine in more detail are attached to the end of this document: one describing the cooling system and a second one dealing with rebuilding the LT1.
The pros of using this engine in an H-body conversion are:
- Excellent performance in stock configuration: 285-300 HP
- Excellent mileage- 20+ MPG highway
- Smooth running and dependable due to EFI
- Cool running engine due to reverse-flow cooling
- Low deck height for under-hood clearance
- Over 100 pounds lighter than all cast-iron engine—525 pounds with accessories
- Camaro/Firebird oil pan is notched like aftermarket H-body pan
- Same dimensions as SBC with short water pump from bell housing flange to front of LT1 water pump—27 ½ "
- Mounts like standard SBC engine
- Can use any transmission combination
- Flat torque curve throughout the RPM range
Cons of the LT1 conversion are:
- Need to use electric fan(s) due to lack of mechanical fan
- Limited clearance in front of water pump for both radiator and fan(s)
- Need to use either pusher fan (less efficient) or radiator in front of core support with remote fill
- Wiring integration
- Must use aftermarket (expensive!) or fabricated serpentine accessory drive belt system
- May have to use spacers to raise engine for pan clearance when using V-8 Monza mounts
- You can get equal or better HP/Torque out of a Gen I SBC with a carburetor
Fit and Clearance- Engine
Once the car came back from the frame shop, the first step involved pulling the old engine and test-fitting the new one. Ron from Lone Star Chassis Fabricators, of Abilene, TX did the cutting and welding. The stock LT1 manifolds are cast-iron with a stainless steel shroud and exit approximately where the 305 Monza manifolds do. They looked like they would fit in the car, but once we got the engine in; the left manifold was rubbing against the steering shaft. Also, the "dog ear" plate where the exhaust mounted to the headers needed to be cut along the left side. We possibly could have dinged the steel shroud on the manifold, but it did not appear that would provide enough relief and might have cracked the cast iron part. I purchased Sanderson CC-13HO headers. The HO's are matched to the D-shaped exhaust port of the LT1 heads. That brought in a new problem—I planned on running the EGR system in order to assure a smooth idle. The right stock manifold has provisions to mount the EGR tube. I also needed to install oxygen sensor bungs in either the collector or head-pipe just below the collectors. I decided I wanted the oxygen sensors in the header collector so the engine could be pulled as a unit. The EGR mount and boss was a little trickier, but it welded into the other side of the collector and the tube mated perfectly in the same position as the stock manifold.
The engine was obviously sitting too low in the engine compartment. The crank pulley/balancer was sitting only a fraction of an inch above the front anti-sway bar after the K-brace modification. The right steering knuckle hit the oil pan about ½ inch from the bottom even with the built-in notch in the stock pan. It was obvious the engine needed to be raised. The good news about the LT1 is it has a lower deck height than any previous small block Chevy. So it was an easy fix to add ¾ inch steel spacers to the Monza frame mounts and raise the engine to where the steering completely clears the oil pan without cutting or dinging it. My steering shaft goes through the headers and clears the left side headers side-to side, but the steering column and shaft were raised ½ " and u-joints were added to get a clear shot over the fourth tube and through the first tube. I had to relieve the LH #4 tube to get the steering shaft to clear the headers.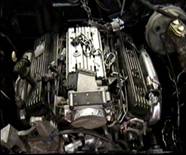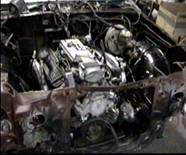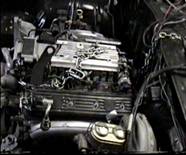 Initial fit-- LT1 in engine bay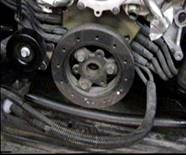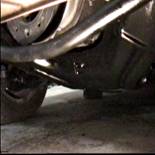 Initial fit—Crank pulley/balancer barely clears front anti-sway bar on Dave's car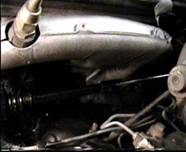 Steering shaft hits stock LH manifold on Dave's car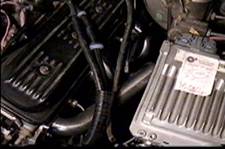 Shaft runs over LH #4 tube and through bend in #1 tube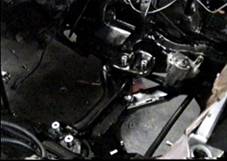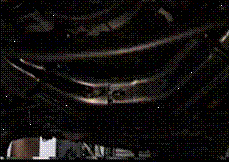 Spacers used to raise Dave's Beefed-up K-brace- shows
engine on Frame Mounts—Note better clearance on Dave's
Flaming River Steering Box Crank/Balancer pulley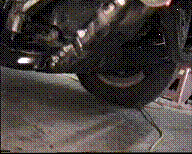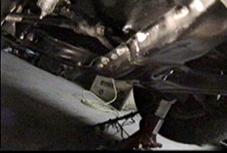 RH steering knuckle hits oil pan- Steering knuckle clears oil pan after
Dave's initial fit spacers were added
Radiator and Fan
I originally hoped that with the LT1 Opti-Spark distributor on the front of the engine rather than the back of the manifold, I could mount the motor further back and get more clearance for the radiator and electric fans. This proved not to be the case. With the Monza mounts in the stock location, we still needed to ding the firewall on the lower left side by the transmission tunnel to get some relief for the left head and block. Clearance in front is critical! With no mechanical fan on the water pump, you must run an electric fan. The more efficient set-up for electric fans is a "puller" rather than a pusher. I wanted to run a 2-row aluminum radiator to reduce weight and optimize cooling during the West Texas summers. I elected to get a 26x16 Be Cool radiator modified for the LT1 reverse flow cooling system. The problem is you can't fit the radiator and electric fans behind the core support. You either have to sacrifice some cooling efficiency by running a pusher fan in front of the core support and radiator behind it, or you have to put the radiator in front of the core support and a puller fan behind it. I am using shrouded dual 11" SPAL fans rewired as pushers in front of the radiator to move 2750 CFM. A B&M transmission cooler sits between the radiator and the water pump cover. I also converted from the stock 180 degree to a 160-degree thermostat; the fans are set to come on at 195 degrees. The core support is modified and a new "box" surrounds the radiator and fans to minimize airflow loss due to the pusher setup. There are some relief holes in the fan shroud to prevent blocking air at high speed. This also requires modifying the brace that ties the header panel to the upper and lower core support that normally goes around the condenser on an A/C car. Since the radiator cap is not accessible under the header panel I am using a remote fill setup from a '92 Corvette LT1. This consists of a pressurized surge tank that connects between the radiator, engine, and heater core, with a tap line to return cylinder head coolant to the system. The radiator cap is on the surge tank. By locating this on top of the inside right fender, it ensures any air pockets in the system are continually purged and eliminates hot spots in the head and block. For a complete description of the LT1 reverse flow cooling system, see the article on LT1 cooling attached below.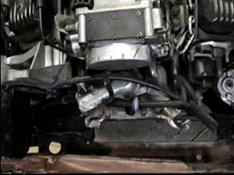 Note there isn't much clearance between
the core support and all the plumbing
from the water pump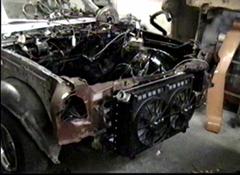 Radiator and SPAL dual 11" fans on Dave's car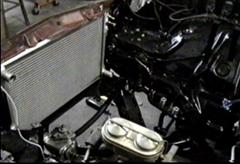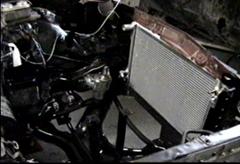 Two views of radiator from behind the core support
Fit and Clearance- Transmission
Denis St. Pierre and others who have installed 700R4 transmissions in their cars have posted extensive descriptions of how they modified their crossmember mounts to accept the longer transmission. That served as a starting point for our car, but Ron at Lone Star Chassis decided it would be just as easy and cost-effective to fabricate a new crossmember that bolted into the last two existing holes in the crossmember mount rather than cutting up the chassis pan around the tunnel. The new crossmember looks like it came from a Russian tank factory—it's stout! It uses the stock Monza TH-350 transmission mount. The bigger 700R4 fits in the larger '75 and later H-body tunnel just fine. The larger speedometer pickup with Vehicle Speed Sensor adapter was too close to the tunnel to allow the stock speedometer cable to hook in because of the large radius bend, but adding a short cable allowed a tighter radius and mated with the pickup correctly. I am using a $65.00 kit from Howell Engine Developments to control the lock-up converter using engine vacuum and a 4th gear pressure signal to tell the converter to lock up. I needed to adapt the 700R4 to use the '76 Torque Arm with the three-link suspension. I found an '82-'92 Camaro/Firebird 700R4 tail housing with provisions for a torque arm for $10.00 at a local transmission shop. Although the bolt pattern for the H-body torque arm mount is different, you can rotate the mount clockwise 90 degrees and use the upper and lower bolt holes in the tail housing to mount to the first and third holes in the Vega mount. Since the torque arm and driveshaft have to be shortened about six inches anyway, you could get a '82-'92 Camaro/Firebird torque arm and mount, cut it, and weld the front part of the F-body torque arm and mount to the back half of your H-body torque arm to have the use of the correct bolt pattern for the tail shaft. The '78-'80 Monza Town Coupe and GM clones used the same tab-type front mount as the later F-bodies, but that would also have to be shortened and re-welded.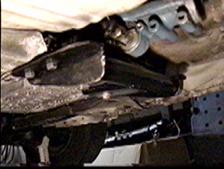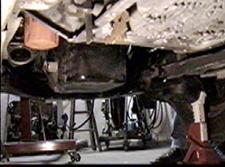 Transmission mount and F-body Looking forward from transmission- Note
tail housing in Dave's car- used an empty case for initial fit!
Note speedo/speed sensor the LH header collector flange
Strengthening and Reinforcement
One of my concerns from talking to many folks is "frame spreading" over time, due to increased weight and lack of re-enforcement. This pushes the car out of alignment and prevents re-aligning it unless you swap upper A-arms, go to modified bushings, or get the frame straightened. Tim McCabe came up with a neat fix—remove the two-piece lower K-brace under the crank balancer, re-enforce it by welding steel bar in the channels, weld it into one solid piece, and weld washers into the slotted bolt holes to make them round, so there can be no movement. I had my K-brace modified and beefed up like this, so I hope to prevent the dreaded spread over time. If your car has already experienced this, Tim recommends dropping the center link, wrapping a chain around the right sub-frame rail, connecting it to the pitman arm, and cranking the steering hard left to draw the frame rails together. Then install the modified K-brace with the washers welded in the most restrictive (inside) position of the slots. Butch Davis did this on his '73 wagon and says it works. E-mail Tim or Butch if you need more information.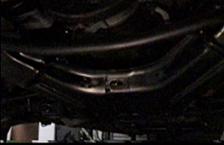 Beefed-up K-brace—
welded into one solid piece,
reinforced, slotted bolt holes made round
on Dave's car
Accessory Belt and Pulley Mounting
A major concern is the serpentine belt routing to drive the alternator. LT1 Camaros and Firebirds came with the alternator mounted in front of the right cylinder head, the A/C compressor mounted on the lower right corner, the power steering pump between them, and a tensioner to the right of the balancer. It is impossible mount an A/C compressor in the stock position without hitting the right frame rail right where the steering mounts. (There was a 1LE A/C delete pulley offered '93-'94 early cars, but the outside radius of the pulley hits in the same place.) The only two aftermarket solutions I found are from March or Street and Performance and cost between $500.00 and $600.00 depending on whether or not you want A/C, and require using a specific alternator. Also, I am not certain the alternator and compressor wouldn't sit too high for hood clearance in an aftermarket setup. We chose to fabricate a new setup that duplicates the stock belt routing from the crank pulley to the alternator, but fits within the front profile of the engine. It cost about $280.00 in parts and labor. I may look into an aftermarket setup in a couple years (I still have fantasies about getting a Vintage Air A/C system in the car.) but for now I'm happy with a reliable setup that works.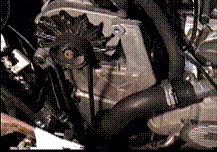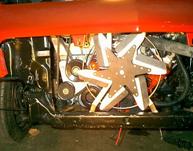 Fabricated idler pulley on plate Tony Hallo's similar fan and pulley
mounts to power steering pump setup shows idler pulleys on aluminum plate
bosses
Electronics
Tim McCabe suggests you not undertake a TPI or LT1 conversion unless you have a thorough understanding of what each sensor does in the system. While this sounds like you have to have a degree in electrical engineering, this really isn't as overwhelming as it sounds. Basically, the program attempts to maintain a 14.7:1 air/fuel ratio whenever the engine is in "closed loop" mode. Generally speaking, this is any time other than when the engine is first warming up or at wide-open throttle. This is determined by a closed data loop in which the MAF or MAP provides pressure data to the computer and the oxygen sensors tell the computer what the air/fuel ratio is. The computer determines the injector pulses and ignition timing based on inputs from the oxygen sensors and MAF and/or MAP using a look-up table, but then fine-tunes it based on inputs from the inlet air temperature sensor, knock sensor, and engine coolant temperature sensor. There is an excellent explanation of how a typical EFI system works contained in the beginning of the DFI Training Manual on the ACCEL website under the EMIC heading. Other aftermarket vendors also have similar (but less detailed) information, such as Fuel Injection Specialties and Ron Francis Wire Works.
Selecting a computer and engine wiring harness is a critical decision. You can get an engine complete with computer, harness, and sensors. I was not so lucky, and had to purchase a computer and have it programmed, a wiring harness, and several sensors. Even if you get a complete setup, you may still want an aftermarket harness and custom computer program. Basically, there are three types of computers. The '92-'93 Corvette and '93 F-body (Camaro/Trans Am) use a computer with a removable programmable chip (PROM). The early LT1's also use a "batch fire" system for the fuel injectors, where the bank of injectors shoots the fuel all at once rather than sequentially, as in the later system. Also, the early engines do not use a Mass Air Flow (MAF) sensor, but rely instead on Manifold Absolute Pressure (MAP) and lookup tables in the computer program to meter the fuel/air ratio. The '94-'95 computers do not have removable chips, but are reprogramable. These contain Onboard Diagnostic Equipment I (OBD I) technology to monitor the status of the computer and sensors. The post '93 computers are also programmed for the Vehicle Anti-Theft system, which must be disabled if you don't use an ignition lock and key with a special anti-theft chip. Tim McCabe also builds a black box to bypass the VATS system on most GM fuel injection systems. He says "I have not tried it on an OBDII system, but it works on all the '86-'94 units. It's a simple
3-wire hook up. Let me know if you know anyone who is looking for one. I charge $50.00 US and it has a 1-year warranty. It's a lot cheaper then getting a new PROM burned without the VATS."
The '94 and later engines use sequential fire fuel injection; each injector shooting fuel in correct order. They also have a Mass Air Flow sensor that uses air volume across a sensor to signal metering of the fuel/air mixture. The MAF sensor is one of the highest replacement frequency parts in the system; also the most expensive at over $275.00. It also takes up a lot of space under the hood. The MAP sensor is still used, but as a secondary or backup to the MAF sensor. The third type computer uses OBD II technology and is not reprogramable; so if you use this computer, it's best to match your engine to the stock '96-'97 configuration. You also must have the Vehicle Anti Theft System (VATS) disabled. There are several aftermarket performance companies who will sell you a reprogrammed chip or computer and engine wiring harness. I wanted a sequential-fire system, but did not want the problems or expense of a MAF sensor. Two companies offer this configuration; Street and Performance of Mena, AR and Howell Engine Developments of Marine City, MI, whom I used. Bill Howell was one of the engineers who designed fuel injection systems for GM. He purchased the computer code to delete the MAF from the '94-'95 program. Their wiring harness includes a fuel pump relay and can be set up for full emissions, no emissions, or any combination in between. I elected to delete the Supplemental Air Induction Reaction (AIR) pump, but retain EGR, PCV, and the charcoal canister. I am also using a Vehicle Speed Sensor (VSS) geared off of my speedometer pickup to ensure smooth performance and eliminate stalling when the engine is coasting at idle with the car in motion. Howell also offer a neat 700R4 lockup feature that uses a vacuum switch and pressure switch to tell the converter to lock up in 4th gear independent of a computer signal. Their prices are reasonable; they stand behind their product and have good customer support. Engine wiring harnesses generally range from $375.00 to $550.00 depending on vendor. Computers and chips run from $300.00- $450.00 again depending on vendor, programming, etc. If you need a complete computer, engine wiring harness, and sensor setup for your engine plan on spending between $1200.00 and $1500.00.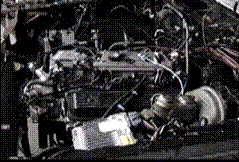 Silver box in front of brake master cylinder is computer
Fuel System
A TPI or LT1 EFI system requires a high-pressure (50 p.s.i. or greater) fuel pump with a supply and return line from the tank. Normally, the supply line should be 3/8" minimum diameter and the return line should be 5/16" minimum return diameter. You can use an in-tank pump or an in-line pump for supply pressure. I wanted to replicate a factory LT1 system as much as possible. I bought a complete Camaro fuel tank; fuel line harness and fuel pump from Regal Performance in Rowlett, TX, (www.lt1s.com or, www.lt1sthatrun.com) for around $130.00. Be aware that the Camaro/Firebird fuel harness is about a foot too short because the stock location for the F-body fuel tank is in front of the rear end. I purchased an $85.00 supply and return line for a '96 Impala SS, including an in-line fuel filter, which is plenty long and has the correct fittings. I sent the tank and my stock Vega tank to Don Hart Radiator in Waller, TX to have them remove the top plate from the Camaro tank and weld it into my Vega tank so I can use the stock Camaro pump. I left the hole for the Vega pump and sender, and put the Vega sender, minus the pump, back in place so I can use the stock gauge. You should also have a baffle or sump in the tank to restrict fuel slosh during cornering so the pump won't cavitate. I had a steel baffle welded into the Vega tank while it was apart. During the tank teardown, they found the beginnings of rust in my Vega tank, so it was treated with the Gas Tank Renu process. For $258.00 I got my tank modified to my specifications, completely cleaned and rustproofed, with a lifetime guarantee. I also retained the Camaro vapor recovery canister. The LT1 has an electronic purge solenoid on the right side of the throttle body that allows unburned vapor to be drawn from the canister to the manifold. If you plan on using the canister, make sure you include this in your wiring harness. It is relatively simple to use the vapor line from the Camaro fuel harness and run the Camaro canister in the same location as the Vega canister. The $490.00 I invested in my fuel system was about $100.00 more than I budgeted for, but probably worth it to allow me to duplicate a stock LT1 system.
Exhaust
Once everything was fitted into the best location in the engine bay, the engine was pulled again, final modifications made to the LH firewall and everything was bolted or welded in place. While the engine was out I sent the headers to Performance Coatings in Arlington, TX to be hot-coated using the Ceramichrome process. This cost $175.00 plus tax and shipping, but they shine like mirrors. Terry St. Pierre at The Muffler Shoppe (no relation to Denis?) hung the exhaust—2 ½" Y-pipes into a single 3" pipe down the tunnel in the stock location, over the rear end, to a 40-series Flowmaster muffler in the stock location, with a 3" tailpipe into dual Pace Setter/Monza 3" tips with resonators that exit behind the left rear wheel. We couldn't physically fit anything bigger than 13" wide x 9.75" tall x 4" wide, the smallest Flowmaster available. There just isn't much room under a Vega for duals if you don't give up some ground clearance or exit in front of the rear wheels. The 3" pipes should flow well enough, probably better than a stock 2 ½ inch setup from the '96 Camaro. Total cost for the exhaust from the headers connectors to the tailpipe was $545.00.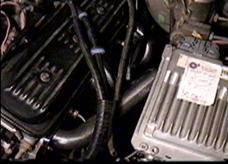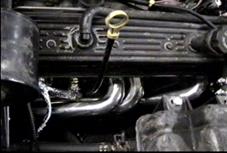 LH and RH Headers after Ceramichrome Coating. Note ding in back LH tube for steering shaft clearance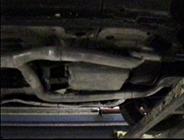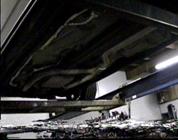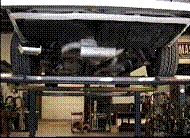 Y-pipe from Headers Exhaust System Flowmaster Muffler and
3" Tailpipe with Monza tips
Note restored fuel tank
Air Induction
There are several ways to get air into your throttle body, depending on how creative you are and whether or not you use the Mass Air Flow (MAF) sensor. The easiest approach is to clamp an aftermarket filter like a K&N cone filter right on the throttle body, but this draws hot air from behind the radiator. (If you do this, don't forget to provide an alternate location for the air temperature sensor.) I used a new 90-degree elbow from a 1LE (A/C delete) Camaro ($78.99 from GM Goodwrench—includes Inlet Air Temp sensor and clamps) with some $20.00 flexible ducting and aluminum sleeves to route cold air from the original air inlet location in the left side of the radiator core support, then mounted a K&N filter ($45.00 from Jegs) in front of the core support. Similar aftermarket kits for F-body and B-body cars are available that supposedly offer a 30 HP increase at the rear wheels and cost over $200.00; but we fabricated this setup for $50.00 less than that. With a good cold air setup, headers, and free-flowing exhaust, I expect to take the otherwise stock engine from 285 HP to over 300 HP.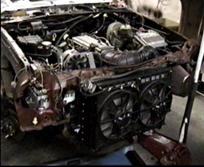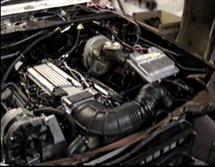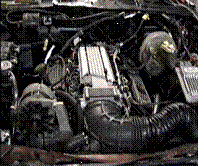 Front without sheet metal: Cold Air Ducting to Front LT1 All Set To Go!
Note K&N Cone Filter, of Core Support
SPAL Pusher Fans
When we put the filter on the left side of the radiator, it completely filled up the area where the turn signal housing sits behind the plastic grille. We considered moving the filter, but decided that was the right location; so the next solution was to modify the turn signals. I cut off the back of the turn signal housing behind the amber lens, shortened the lens to eliminate interference with the bottom of the filter and epoxied two 4" x 3/8" amber LED light bars from Ron Francis Wire Works (http://wire-works.com) to the front of the lens so they fit between the slats in the grille. These cost $19.00 each. The LED turn signals were attached with cleat RTV silicon to the old lenses and test-fitted fitted into an old grille. I wired them in using GM Weatherpak 3-pin connectors so they can be easily removed without cutting wires. They look and function great and leave room for the big K&N Filter in front of the core support. Talk about a "giant sucking sound"—at idle the engine pulls a lot of air! I'm glad the filter is out of the engine compartment where it can draw cool air.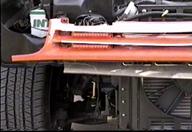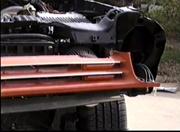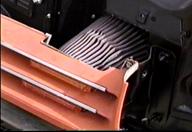 LED Turn Signals and Parking Lamps Air Filter and LH LED's
Rear End and Brakes
I originally planned to run the existing Vega 6 ½" rear end for a while, but I decided it would cost more to fix the car after it blew and I didn't want to be stranded on the side of the road in the middle of nowhere. I got a 7 ½" rear from a '80 Monza from my local wrecking yard for $75.00. I got a whole S-10 rear end from another yard for $100.00, pulled the axles, drums, and pinion yoke, and swapped them into the Vega 7 ½" housing. I chose 3.42 rear gears for a nice compromise between low-end torque and top end horsepower and quiet running for street driving; and originally added an Auburn posi unit. (For more information on this swap, see Bob Gumm's "Building the V-8 H-body" website at www.v8monza.com .) But I still wanted rear disc brakes. I bought a Monza rear end built by Gary Derian with '98 S-10 Blazer 12" rear disc brakes, Moser axles, and Torsen differential from Tom Lippert for $400.00. Since the rear had a Cosworth 3.73 gear set rather than the larger S-10 pinion, I pulled the axles, Torsen diff, and brakes and put them into my rear end. The biggest challenge was parking brake cables. I used '98 Camaro cables, which were almost 12 inches too long. Rather than trying to modify them, I decided to take up the additional length by crossing them over to the opposite side—that worked perfectly! The 14-inch wheels were dangerously close to rubbing on the rear calipers. I had been thinking how nice the '98-'01 S-10 15x7 inch alloy wheels would look on the car, so I decided to swap the 14's out. I mounted Bridgestone Potenza RE-910 205-55HR-15's that are the same outer diameter (23.7 inches) as the 14's that came off the car to minimize clearance problems and keep the same speedometer ratio.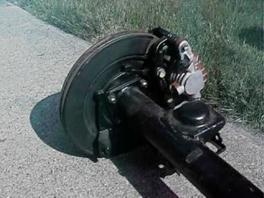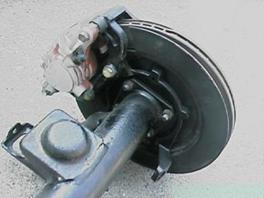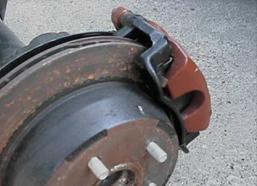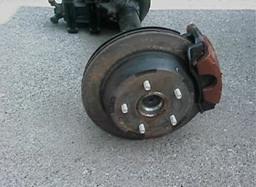 Rear End with custom 28-spline Moser axles and '98 Blazer 12-inch rear disk brakes

I replaced all the rear control arm and torque arm bushings with Energy Suspension polyurethane bushings. These are available in a kit, #4-3141, from Suspension Restoration (www.suspension.com) for $42.00. Finally, I had the lower control arms reinforced by welding 1-inch rectangular tubing into the channels as recommended by Robert "12 Second Vega" Herndon.
Front End and Brakes
I did a complete front suspension rebuild during the initial restoration; swapping the deep pocket lower A-arms, front anti-sway bar, spindle, vented rotors, calipers, and V-6 springs from a '78 Sunbird wagon for my stock non-GT parts. I replaced the bushings and ball joints at that time as well. My car came with power brakes, and I retained the stock booster without any clearance problems. I originally bought beefed up 5-lug Monza rotors from Dave's Vega Village rather than doing the S-10 spindle, rotor, calipers, and ball joint adapter. But when I went to 12-inch rear disk brakes, these were too small to keep the brake system balanced. After consulting with "Vega Man" Larry Heagren, I decided to upgrade the front brakes and the increase the system capacity as well. I used Bob Gumm's ball joint adapters, S-10 front spindles and rebuilt calipers, a rebuilt '76 Cadillac Eldorado "Turbo Boost" disk brake master cylinder, and its matching proportioning valve. The master cylinder is 3" x 5 ¾" and about ½" deeper versus the 2 ¾" x 5" one in the Vega now so it adds about 50% additional fluid capacity. It bolted up to the stock Vega power booster with no additional modification. I got Autospecialty Power Stop cross-drilled and vented S-10 front rotors from Summit Racing ($65.00 each) with VGX metallic pads. These are about ¾" bigger than the Monza rotors. I took Bob Gumm's recommendation and used '76 Nova hoses that adapt to the S-10 calipers and Vega keyways with minimal modification.
I replaced the used V-6 Sunbird springs with new Moog CS 5576 V-8 Monza springs. My first impression was these were way too stiff, but once I got all the sheet metal and front bumper on the car, the rate was much better; firm but quite acceptable for better handling they provide. I didn't have to cut them and the ride height is just about perfect. With CC-617 variable rate rear springs and ½ inch rubber isolators installed the car looks very balanced.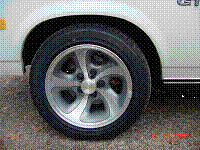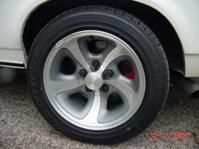 Front and rear wheels and disk brakes
Steering
Since the steering wheel was coming out anyway, I decided to swap to a tilt column in order to make header changes and engine pulls easier in the future. Butch Davis gave me a tilt column from a '77 Astre with no ignition lock and a cracked upper bowl. I pulled the upper bowl and lock with key from a '78 Sunbird wagon, bought a new turn signal switch and harness, and rebuilt the column. The bearings were in good shape, so they only required a liberal coat of lithium grease. It's pretty straightforward; if you have a Chilton's Vega book you can figure it out easily. Also, there's a good article in the July 2000 Chevy High Performance on rebuilding your steering column. I kept the aluminum Flaming River quick-ratio manual steering box. Many H-body owners I've talked to discovered the real source of excessive play in their steering is worn center link bushings, so I replaced my center link before the car went back on the road.
Gauges and Indicators
I want my interior to appear as close to original stock Vega as possible, but wanted to upgrade the gauge package. I got a set of three Auto Meter mini (1 ½") electrical gauges from Jeg's, catalog # 105-2391. I previously enlarged the voltmeter and temperature holes in my GT dash to fit a set of 1 ½" mechanical gauges. I wired the water temperature and voltmeter gauges directly through the firewall rather than through the fuse block. The LT1 has two coolant sensors; one on the water pump plenum that talks to the computer, and a single-wire sensor on the left head. I replaced that one with the electrical sender for the Auto Meter mini coolant temperature gauge. The stock Vega clock is worthless; besides my Delco sound system has a digital clock, so I put an Auto Meter mini electric oil pressure gauge wired through the firewall to an oil pressure sender on the fitting at the back of the LT1 intake manifold in place of the clock. The mechanical speedometer pickup on the transmission is modified with a vehicle speed transducer, but lets me use a stock cable-driven 120 MPH Vega GT speedometer. Tim McCabe modified an 8000-RPM Cosworth tach for my V-8. It connects through the firewall to a tach output wire from the computer and wiring harness. Using the Vega fuel sender allows me to use a stock fuel gauge. I retained the stock idiot lights. Be Cool built my radiator with provisions for the stock Add Coolant sensor. I also added a Check Engine light that is built into the computer and wiring harness to monitor the status of the LT1 electronics. This went in the hole for the clock stem next to the oil pressure gauge.

Vega GT dash with Cosworth turned-metal bezel, Autometer Gauges and amber
Check Engine light in old clock stem hole. Modified B&M Console Megashifter for 71-82 Camaro.

Interior
The car originally had a white interior. Anybody who has owned a 20-plus year-old car with a white plastic interior can attest that it oxidizes in the sun quicker than just about any other color. Mine was more like Styrofoam than polystyrene—rubbing it turned it into powder. This can be attributed to lower carbon content in white plastic. Most of the black pieces and many of the saddle beige color pieces I've found are as flexible as the day they were molded and only suffering from a few dings and scratches. My white vinyl driver's seat was also shot. I gradually collected a set of black plastic panels, most of which came from Butch Davis. Classic Trim of Abilene made a set of black vinyl seat skins with cloth velour inserts from early '90's Camaro fabric that fades gradually from black to medium gray. This cost around $700.00 for front and rear seats. I might have been able to get a different reproduction OEM pattern cheaper, but decided to go with something I thought would look good without detracting from the near-original appearance of the car. The velour inserts should add to the visual appeal and offset the black interior against the white exterior and be comfortable than solid vinyl in the Texas heat.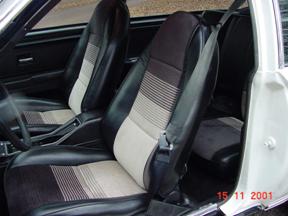 New seat with velour inserts
Working Out the Details
When it was finally time to drive the car back from the chassis shop, there were still some bugs to work out. The engine was idling very high, around 1500-1800 RPM. We checked out the Idle Air Controller, but it wasn't the problem. Ron could reset the IAC to where the engine would idle at 600 RPM with a sensor tester when not connected to the computer. Once the plug from the computer was hooked up, the idle speed went back up to over 1500 RPM. Also, we found the EGR solenoid lead from the computer was missing from the harness. I called Howell Engine Developments and spoke to the technician who built the harness. We determined the wires from the computer were reversed in the weather pack connector to the IAC. He immediately sent out a pigtail lead to correct the wiring to the IAC and a sub-harness to connect the EGR solenoid to the computer. Later, they replaced the entire harness with a correctly wired one.
While waiting to save enough to finish the paint and bodywork, I detailed out the engine compartment— rerouting and wrapping wire harnesses and hoses, cleaning and painting, and adding a Bow-Tie throttle body plate, chrome valve cover caps. I installed the body panels temporarily to evaluate the cooling system with everything closed up. I drove the car and let it idle on a 100-degree day and the gauge never went over 210

degreees

.

Dress-up throttle body plate and chrome valve-cover caps
Note the LT1 and bow tie logos
The Finished Product
Royce

Collision Center
did a thorough and professorial job restoring the body to my specifications. I found a re-chromed front bumper on eBay and it looked so good on the car I had the rear bumper done to match. They look so good I am having the windshield molding straightened and chromed. I also added NOS wheel well opening molding and almost perfect used trim that runs under the grill and headlight buckets. Willie looks better than the day he rolled off the line almost 26 years ago.
Lone Star Chassis fabricated and installed custom chrome-

moly

sub-frame connectors and reinforced the rear lower control arms by welding 1" rectangular tubing in the channels.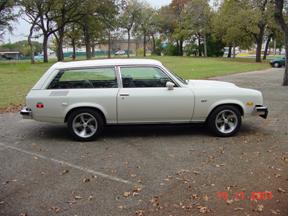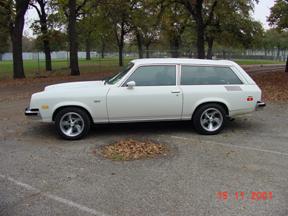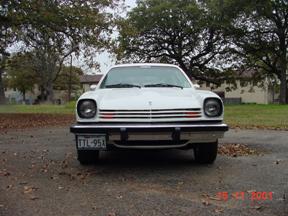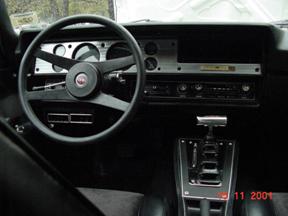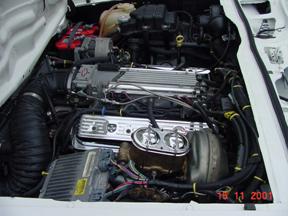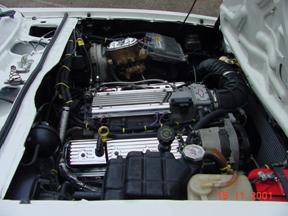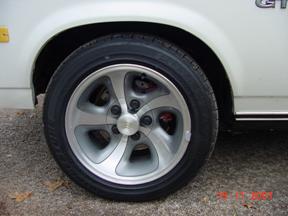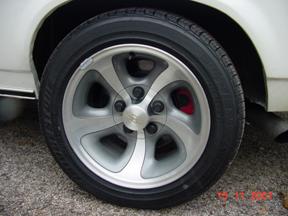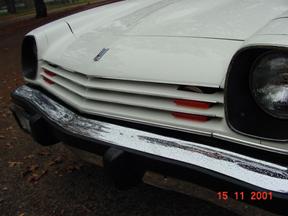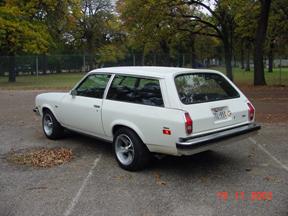 Driving Impressions
The engine starts flawlessly and idles smoothly around 600 RPM. At idle on a hot day the fans kick on at 190, and then run until the temperature drops to 185. WOW-- Does this car accelerate! Since I bought the transmission used, I didn't know everything about its history, but the previous owner must have put in a shift kit—it really kicks from 1st to 2nd. With the weight of the front sheet metal, bumper, and hardware the 5576 spring rate is much tamer than I originally thought and the ride height is very balanced front and rear. With polyurethane bushings on the front and rear control arms, the torque arm, and the front sway bar, it's a little squeaky but the car feels tight and handling is excellent. The 4-wheel power disk brakes are incredible—it stops quickly, straight, with no skidding or diving. The proportioning is perfect; the rear has never locked up before the front brakes grab. The temperature gauge runs around 150 at highway speed, and I get an honest 20-MPG while cruising at 2400 RPM at 70 MPH.
Willie, the White Wonder Wagon, has been transformed into Willie, the LT1-der- a rocket on rails!
Update: Summer, 2002
Anyone with a V-8 H-body can tell you that sub-frame connectors are a worthwhile investment in the structural integrity and handling response of your car. The only aftermarket option is the Chris Alston boxed sub-frame connectors, but they involve cutting the floor pan of the car near at the rear seat pan. I found out Lone Star Chassis could fabricate and install a set of full-length tubular chrome-

moly

sub-frame connectors for around $300.00. They did a fantastic job tying them in at the front and rear, as well as along the length of the rocker panel. This virtually eliminates body flex from the torque of the LT1 and aggressive driving. At the same time, I decided to have the rear control arms reinforced in the channels and boxed.
Because my radiator doesn't have a built-in transmission cooler, I was concerned about whether I had addressed transmission cooling adequately. So in July I added a deeper

Derale

steel transmission pan with cooling tubes (about $78.00 from

Jegs's

or Summit) to provide supplemental cooling. I also went to a stronger reinforced aluminum rear-end cover. It wasn't quite as expensive ($59.00 on eBay) as the bearing cap stud models, but it's stronger that stock due to having a thick strap across the cross-section. It also promotes better cooling due to the finned construction and provides over a pint more gear lube capacity. I'm running

Valvoline

synthetic which exceeds specs for the

Torsen

rear differential.
Never say never— Sherman Wright kept telling me I needed power steering. I originally ruled out power steering in my car, but after hard-cranking the manual Flaming River quick-ratio box for a couple years I decided to swap. I pulled a '77 Astre power steering box, and a '93 Camaro LT1 power steering pump and lines. The LT1 lines have o-ring fittings, so I needed to have them lengthened and modified to work with the box, which has flare fittings. Other than that it was a bolt-in swap. I discovered that even though I ordered a manual center link for the car when the manual steering was updated, the parts counter sold me the wrong one. I had a P/S center link in the car with the manual box, which explains why my steering was so difficult, and turning radius was so bad after the S-10 spindle swap. With the P/S installed and a P/S center link, the car turns much tighter with very little effort, as you would expect. I also addressed the negative camber situation by installing Moog offset upper control arm bushings. Prior to changing the bushings, the car had one degree negative camber. This gave me a lot of oversteer and made for a very "loose" car in NASCAR terms. The offset bushings took me to ¼ degree positive camber on the left and 1/8 degree on the right, which reduced the
oversteer considerably. The steering and handling is greatly improved with these mods, but I'm looking to go the next step to an AGR 12:1 power steering box in a couple months to improve the steering even more.
2003 Update
I wanted to do some work on the car while sitting on call for UPS, so I drove 1000 miles to Louisville, KY in 15 hours. Outside temperatures were in the mid-30's decreasing to the 20's during the drive north. The car ran extremely cool the entire way, never getting above 160 degrees at highway speeds. I also noticed the car seemed to be running rich the entire way. Even after running for hours, the exhaust smelled like there was a lot of unburned fuel, and a lot of black soot accumulated on the left quarter panel above the exhaust. I believe the 160-degree thermostat keeps the engine too cool so the coolant temperature sensor modifies the fuel trim tables to enrichen the mixture. I went back to a 180-degree thermostat to see if that helps, but did not change the fan switch. I also changed the spark plugs for the first time, installing AC/Delco platinum plugs gapped at .050. The old plugs all showed a little evidence of carbon fouling but were not in bad shape overall. If you haven't changed a set of plugs on a small-block Chevy engine with angle-plug heads and Sanderson headers, you are in for a real experience. The difficult plugs are #5 and #6. The proximity of the primary tube prevents getting a socket over the plug, so an offset wrench must be used to remove and install these two plugs. The remainder can be changed using either a stubby ratchet drive with flexible head, adding an extension, or using a wrench on the flat end of a 5/8-inch spark plug socket. I flushed the crankcase with cleaner and changed to Mobil 1 10W30 oil.
Problems and Fixes
-Rear End: After about 10,000 miles since the rear end was put together, a grinding noise started coming from the center section. As time progressed, it started to get worse. I tried changing the gear lube and adding friction modifier, but it continued to get worse. Through one of the local car clubs, I was able to find a 4-wheel drive shop in Louisville (4Wheeler's Supply) that specialized in rear end work. They were happy to take on my problem. When they pulled the rear end apart, they found the pinion bearing was badly scored and the pinion gear was wobbling around in the housing. Fortunately, the ring and pinion gears were not damaged. Apparently, the preload had failed on the bearing. None of the information on the S-10/Monza rear end modification addresses the fact that setting crush depth and preload may require depths in excess of those normally used. In order to prevent this from re-occurring, I asked the shop to use a solid crush spacer. They fabricated one from steel tubing that helped in establishing the correct crush depth and preload. They also replaced the carrier bearings just to be on the safe side. The entire rebuild cost just over $500, but the only other option I saw was to spend over $1500 for a modified Ford 9" or GM 12-bolt to replace the 10-bolt. The rebuilt rear is nice and quiet, and I believe it is now as strong as you can build a10-bolt. I hope it will hold together for a long time, but if not, the next step will probably be a modified F-body aftermarket 12-bolt rear.
- Flex Plate Vibration: About the same time the rear end problem began, I started noticing a vibration that occurred around 800-1200 RPM. The vibration occurred whether in Park, Drive, Neutral or Reverse; whether or not the car was parked or moving. It didn't seem too severe, so I decided to drive the car back to Texas (on a Sunday morning) and work on it there. To make a long story short, after driving around 200 miles, the vibration started to get worse and was occurring at all speeds. The torque converter cover plate also worked itself loose, and was rubbing on the flex plate. I quickly abandoned plans to get to Texas and started looking for a shop that could fix my car on a Sunday afternoon. I found a truck shop in Jackson, Tennessee who would work on the problem. Initially, we though the problem might just be a bad transmission mount. The mechanic on duty helped me replace the torn old rubber mount with a new polyurethane Energy Suspension transmission mount. After a short test drive, I determined the severe vibration was still there. The problem would probably require dropping the transmission and more time to investigate. I had to get home, so I left the car with them and got a flight out of Memphis. A couple days later, the head mechanic found that the bolts connecting the

bellhousing

to the engine were backing out and the transmission was separated from the engine! They tightened the bolts without dropping the transmission. The severe vibration was gone, but the more subtle 800-1200 RPM vibration was still there, and maybe a little worse. Rather than driving to Texas, I decided to take the car back to Louisville and work on it there. The 4-wheel drive shop put me in touch with

Bilbrey

Automotive, who specializes in racing transmission work. Once we got the car up on a lift, we determined the flex plate was warped. This looked like the most likely cause of the vibration, plus it also explains why the transmission bolts backed out and the cover plate fell off. Since the transmission and

flexplate

were coming out anyway, I decided it was time to replace the original Suburban torque converter with a higher stall converter. I opted for a heavy-duty

flexplate

and a PTC 2400-2800 stall converter.
- Alternator Failure: In the middle of all this, my volts went from 12-13 down to 11-10. The multimeter confirmed it—bad alternator! This was a pretty routine fix, but I want to note a couple things about LT1 alternators for anyone doing a swap or replacing theirs. First, there are two stock alternators for the F-body LT1; the 1993 car used a 124-amp alternator, and the later cars used a 140-amp alternator. Do not assume they are perfectly interchangeable; the right rear mounting boss is in a different position on the back of the case. If you swap alternators, you will need a different mounting bracket that goes from the exhaust manifold to the right rear of the alternator. The 140-amp alternator also uses a larger bolt in that position than the 124-amp model. Second, if you are looking for an aftermarket alternator as an alternative to the OEM remanufactured replacement, expect to spend over $200 and up to $265 if you want a chromed alternator. After trying the 140-amp AC/Delco ($148 with exchange) and finding it wouldn't just bolt in, I went with a remanufactured 124-amp Pro Start from Pep Boys with a lifetime warranty for $110 (with exchange). Since many remanufactured alternators have a lifetime warranty and are relatively high-amp models, I think they are a better value than aftermarket models.
- Dash Update: I decided the appearance of my dash was a bit too "busy" and it needed to be cleaner. I wanted to go back to the "stock GT" appearance: no wood grain, no silver trim, just white letters on black. Since it was glued on, I couldn't just pull the wood grain trim off without leaving damaged plastic. I found another perfect dash carrier on eBay, and swapped the two dash carriers. I like the cleaner look and found that it also lined up better.
Even though I had to deal with a lot of problems, they resulted in major upgrades to the car. I was able to balance out the fuel mixture and get the car to run cleaner, strengthen the 10-bolt rear end, upgrade the flexplate and finally replace the torque converter with a high-stall converter, replace the alternator and and replace the dash. Frustrating; but in the end the car is better than before!
Future Plans
A Painless Wiring 18-circuit universal street rod wiring harness may eventually replace the original Vega wiring which by now has been extensively modified and spliced.
My ultimate street rod would have air conditioning. It appears there is just enough room between the frame for the SPAL fans and the radiator for a condenser. Once I see how well the engine cooling setup works this summer, I may try putting a condenser between the fans and radiator and see how it affects cooling. Another option is removing the SPAL fans and trying Flex-a-Lite dual pancake fans behind the radiator in order to free up space for the transmission cooler and an A/C condenser in front of the radiator. If either of these work without making the engine run too hot, the next step would be to add air conditioning. This would require new March outward-mount accessory brackets, A Sanden 508 R-134 compressor, probably a new alternator, and a Vintage Air compact heat/AC/defrost evaporator in addition to the condenser, lines, and accumulator. For now, I want to see how my current setup does this summer; but if I can figure it out I definitely want A/C in the car in the future.
Maybe Someday…
How about porting the LT1 heads? Better yet, how about converting to LT4 heads, valve train and cam? That would require a bigger throttle body and injectors. All that torque will probably explode my S-10 rear end, so I would probably need either a narrowed 12-bolt or custom 9" with a torque arm setup. Might as well upgrade the torque arm and beef up the rear trailing arms at the same time! The list is only limited by imagination, time, and money. Keep checking back at www.H-body.org-- I'll keep you posted!
Vendors Used
- Auburn Gears: Positraction Unit
- Auto Meter: Electric Oil, Temperature, and Volt Gauges
- Autospecialty: Power Stop cross-drilled and vented S-10 front rotors
- Auto Zone: S-10 Front Brake Calipers
- B&M Transmission Products: Trans Fluid Supercooler, 70-81 F-body Console Megashifter
- Be Cool Radiators: Custom Reverse Flow 2-Row Aluminum Radiator, Dual SPAL Fans
- BF Goodrich: 205-60HR-14 Tires
- Bridgestone: 205-55HR-15 Potenza RE-910 Tires
- Butch Davis: Motor Mounts, Dash Carrier and Pad, Seat Frames, Interior Panels, V-8 Monza Heater/Blower Motor Box, LOTS of Good Advice
- Classic Trim of Abilene: Upholstery, Rear cargo mat
- Dave's Vega Village: Monza 5-Lug Rotors
- David's Auto Salvage: Body Panels, S-10 rear axles, front spindles, drums, and yoke, LT1 power steering pump and lines
- Derale Cooling Products: Deep steel transmission pan with cooling tubes
- Don Hart Radiator Service: Fuel Tank Restoration and Fabrication
- Energy Suspension: Polyurethane suspension bushing kit, Sway Bar Mount and End Links, Transmission mount
- Fain's Automotive: 700R4 Transmission, AM/FM Cassette Deck, Front and Rear End Modification and Assembly
- Flaming River: Aluminum Quick-Ratio Steering Box
- Flowmaster: 40-series muffler
- FM 600 Wrecking: Body Panels, A-arms, Anti-Sway Bars, Monza 7.5" Rear End Housing, Monza Spindles and Brake Calipers, Pontiac Rally II Wheels, Astre power steering box
- GM Goodwrench Parts: Impala SS Fuel Supply and Return Lines, Fuel Filter, 1LE Air Inlet Elbow, Parking Brake Cables, Miscellaneous Wiring Connectors
- Howell Engine Developments: Computer, Wiring Harness, Sensors, Fan Control Wiring Kit, Torque Converter Lockup Kit
- K&N: 600 CFM Cone Air Filter
- Lokar: Throttle and Transmission Cables, Throttle Body Brackets
- Lone Star Chassis: Fabrication and welding
- Moog: Front V-8 and Rear Springs, P/S Center Link, offset upper control arm bushings
- Moser Engineering: 28-spline custom rear axles
- NAPA: '76 Nova brake lines and '76 Cadillac Eldorado Turbo-Boost Master Cylinder correct P/S center link
- National Drivetrain: 3.42 Bow Tie Eliminator Ring and Pinion Gears
- Performance Coatings (Arlington, TX): Ceramichrome Header Coating
- Performance Torque Converters (PTC) 2400-2800 stall 700R4 Lockup converter, 153-tooth externally-balanced HD Flexplate
- Regal Performance: LT1 Fuel Tank, Fuel Vapor Canister and Lines, LT1 Fuel Pump, Alternator, Flywheel/Flexplate, Lots of Advice
- Ron Francis Wire Works: LED Turn Signals, Flasher, Indicator Lights
- Sanderson: CC-13HO Headers
- The Muffler Shoppe: 3" Exhaust Fabrication
- Tim McCabe: V-8 Tach Recalibration
- Tom Lippert: Dash Trim, Wiring, Cosworth Speedometer and Tach
- Torsen: F-body Limited-slip Torque Sensing Rear Differential
- Tuned Port Injection Specialties (TPIS): 160 deg. Thermostat, Throttle Cable Stud, Oxygen Sensor Bungs, Battery Mat
- V8monza.com (Bob Gumm): S-10 Ball Joint Adapters
- VGX: Metallic Brake Pads